Welcome to the Future of Network Automation: Juniper Paragon Automation as a Service
Contributed by Kanika Atri, Senior Director, Strategic Marketing, Juniper Networks.
Service Providers (SPs) don't invest in automation for automation's sake. They do it to achieve business outcomes. Faster time-to-market. Reduced operational complexity and costs. More reliable, higher-quality subscriber experiences. Now, as traffic volumes explode and operators introduce new business and consumer services, including 5G, edge cloud, Internet of Things (IoT), Fixed Wireless Access (FWA) and more, automation has become a top strategic priority for SPs. There is no place this matters more than where these growth trends and new service types converge: the Cloud Metro.
However, when we survey the market, we see a need to fundamentally reinvent how network automation is deployed and consumed. In fact, market analysts suggest that more than 70% of "Do-it-Yourself" (DIY) in-house network automation projects fail. And when organizations rely on legacy vendor automation solutions, they don't deliver real business outcomes. For example, in a recent Heavy Reading survey, 40% of SPs said that using a generic automation framework is actually a barrier to adopting automation in transport networks.
At Juniper Networks, we believe there is a better way, and it must be guided by three core principles:
Speed matters: The automation tools we use should have a maniacal focus on "time to first business outcome," and that time should be measured not in years, but in days. Automation should let SPs move at the pace of business, not the pace of internal operations.
No overhead: It shouldn't require a huge investment in capital budget, time and personnel to deploy, operate and continuously update automation software and hardware. Automation should let SPs focus on productivity, not production.
Easy button: It should be super easy for staff to use network automation—without needing extensive training or software development skills. Automation software should work for SPs, instead of SPs working for the software.
How can the industry deliver these requirements? Juniper believes the future of network automation is cloud-delivered and Artificial Intelligence (AI)-enabled. It's been proven in other domains. Now, it's time to bring this model to the Wide-Area Network (WAN).
Juniper is already an established player in WAN automation, with many of the world's premier SPs and enterprises using Paragon™ Automation, particularly for closed-loop automation use-cases. Now, we are taking that value proposition further and doubling down on public cloud and AI.
Today, Juniper announced the launch of Paragon Automation as a Service. This solution is more than just a reimagined network automation suite – it's a reimagined automation experience. And it paves the way for more sustainable business operations in the Cloud Metro and across the network.
Reimagining the Future with Paragon Automation as a Service  
With Paragon Automation as a Service, Juniper is reimagining the automation experience in the following ways:
It's cloud delivered. Just sign up, log in, connect the devices and GO in minutes. There's no need to worry about hardware/software installation overhead, and it's much faster than trying to implement DIY automation that might take months or years.
It's AI-enabled. The Paragon Automation cloud infrastructure comes with built-in AI and Machine Learning (ML) data and training pipelines, and WAN-specific AIOps use cases. SPs can spot WAN issues that would elude human analysis using conventional tools, identify root causes and fix them before they impact the service experience. And with AI/ML, the automation framework keeps learning every day and gets better at predicting such issues over time.
It's assurance native. Paragon Active Assurance test agents are now natively embedded into Junos OS Evolved in every ACX7000 platform. These built-in "Experience Sensors" generate synthetic traffic to measure service/application quality, anywhere through the network. Coupled with Paragon Automation as a Service, SPs can detect and fix experience issues proactively. It's yet another proof point of delivering on our vision of experience-first networking.
It's trust verifiable. Paragon Automation as a Service helps SPs establish network trust at three levels. At the hardware level, it guarantees they are using genuine Juniper gear by validating a unique Device ID linked to TPM 2.0 chips embedded in our routers. At the software level, it then continuously checks software integrity and finally, calculates a network-wide trust score, providing them with actionable insights about potential risks.
It's use-case based. That's the value of cloud: use only what is needed and pay for only what is used. If SPs only need to automate one use case to solve an immediate business problem – then that's where they start with Paragon Automation as a Service. There's no need to go "all-in," or "boil the ocean" by deploying and training legacy automation systems as one would with most vendor and DIY solutions. With Paragon Automation as a Service, SPs can start small, go fast. SPs can choose their own adventure across the lifecycle of Plan, Orchestrate, Detect and Assure and Optimize use cases.
It's intuitively simple. We combined the art and science of UX design to make Paragon Automation as a Service so simple to use, it can feel like it's reading your mind. The modern UI is built on a layered information architecture, recommendation engines and visual guides that flow with the user's operational journey.
Why is the future of automation in the cloud?
Because it just makes sense—from both a business and technical perspective. There's a reason most of the world's software has moved to a cloud-delivered SaaS model. It's why 61% of SPs told Heavy Reading that they want cloud-based network automation in a new survey on transport automation.
Furthermore, Analysys Mason quantified the benefits of SaaS-based automation compared to DIY/ legacy solutions, and the value of SaaS is just staggeringly obvious.
Business benefits:

The simplicity of a SaaS platform reduces deployment times by 50% for most projects, translating directly to faster time-to-market and increased revenues.
Once deployed, SaaS automation platforms allow SPs to add new use cases 70% faster than with traditional approaches.
SPs incur 40% lower costs with a SaaS-based automation approach compared to internal development. This owes to savings in hardware, staffing and operational costs for installing and maintaining your own solution.
Technical benefits: With cloud, innovation comes fast. Think weekly releases of software improvements, compared to months with traditional solutions. When it comes to AI, it makes sense to use cloud so SPs can leverage the collective intelligence from anonymized data, ML models and knowledge from networks around the world.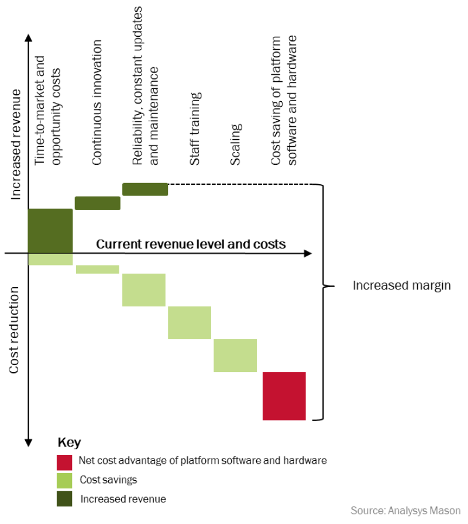 Compared to today's typical automation approaches, whether it's a "big-bang" automation system from a vendor or an SP's own DIY system, most of these efforts fail on the three guiding principles:
Slow time to first outcome: Applying a generic automation solution to all network domains requires a huge investment in time and effort. Often, they are just too broad and complex, making them difficult to get off the ground, evolve, scale and, most importantly, deliver business outcomes. SPs might, eventually, see some positive outcomes, but they won't get there quickly or easily.
Extra overhead: The costs to build, deploy and manage the infrastructure grow quickly. Often, it ends up costing much more than budgeted, making it difficult to prove ROI.
No easy button: Traditional solutions require extensive training and skills to use effectively. This gets even harder when skilled employees are scarce and staff churn is high.
Bottom line: a cloud-delivered, AI-enabled network automation approach offers much faster, cost-effective, simpler and outcome-focused results.
Automating the Cloud Metro
As SPs adopt a Cloud Metro model, distributing more capacity and service intelligence out closer to subscribers, they can't rely on yesterday's approaches to metro network operations. What they want is built-in security, assurance and AIOps.
Coupling Juniper Paragon Automation as a Service with our Cloud Metro platform is a perfect fit, providing a complete, shrink-wrapped solution. SPs get on-box elements such as embedded active assurance sensors and built-in Zero Trust security, plus off-box elements from Paragon Automation as a Service. That's how they can build sustainable Cloud Metro operations across the lifecycle.
Day 0: Authenticate and onboard thousands of Cloud Metro devices in minutes, not days, and launch new services more quickly with Paragon Automation as a Service.
Day 1: Natively enable the quality of Cloud Metro services with built-in Experience Sensors and establish network trust by verifying hardware and software integrity at scale.
Day 2 and beyond: Find, fix and predict Cloud Metro problems before they impact user experience, thanks to WAN AIOps built into Paragon Automation as a Service.
Service Providers are more than ready for automation. But most automation solutions haven't been ready to deliver the outcomes SPs need—until now.
See the power of Paragon Automation as a Service for yourself with this sneak peek into just one example of the future of automation, our AI-enabled Device Onboarding as a Service and discover how we're reimagining the onboarding process to make it instantaneous, virtually error-free and secured.
Cloud-first, AI-enabled automation is the future. Juniper's initial offering will be available early 2023—and we're just getting started. Throughout next year, we expect to roll out additional use cases and an AI-driven conversational assistant.
Statement of Product Direction
The information on this page may contain Juniper's development and plans for future products, features, or enhancements ("SOPD Information"). SOPD Information is subject to change at any time, without notice. Juniper provides no assurances, and assumes no responsibility, that future products, features, or enhancements will be introduced. In no event should any purchase decision be based upon reliance of timeframes or specifics outlined as part of SOPD Information, because Juniper may delay or never introduce the future products, features, or enhancements.
Any SOPD Information within, or referenced or obtained from, this website by any person does not give rise to any reliance claim, or any estoppel, against Juniper in connection with, or arising out of, any representations set forth in the SOPD Information. Juniper is not liable for any loss or damage (howsoever incurred) by any person in connection with, or arising out of, any representations set forth in the SOPD Information.
Juniper Networks, the Juniper Networks logo, Juniper, Junos, and other trademarks listed here are registered trademarks of Juniper Networks, Inc. and/or its affiliates in the United States and other countries. Other names may be trademarks of their respective owners. 
Related content